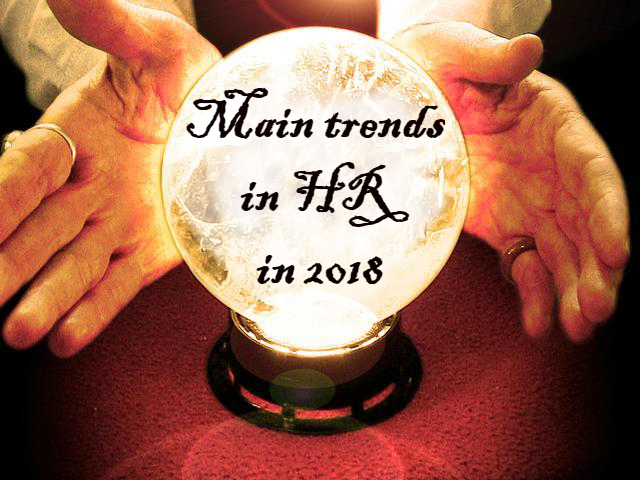 What to expect in 2018
27 December 2017
2017 is coming to an end and everyone is already looking into the future. So do we. Peeking a few months ahead, we share with you what could be main recruitment trends in 2018. So, feeling like a fortune tellers, we think that 2018 will bring us:
Care and personalize.
Companies will be more focused on providing "candidate care" experience. Candidates will not be only a source of manpower and the final link in closing a job, but recruiters will work more closely with each of them, trying to establish long-term relationships.
Candidates will be provided with fast, transparent, sincere and positive approach while all-even the most conservative- agencies will understand the importance to talk to candidates where they are, using Social Media, messengers, creating chatbots etc.

Rethink and digitalize recruitment strategy.

Integrates demography and demographics' dynamics. All metrics are important in recruitment strategy.
Employer brand matters more than ever, so the companies that realized it before will continue on building their brand strategy, while all others start to think about creating one.
Feedback.
Not only employers get to "judge" candidates and give them recommendations, now candidates are in this game too. There are many sources for leaving a review on your employer or a recruitment agency and companies should be aware of that, because in this case it is not "bad PR is still a good PR", but can cost a company a potential employee, clients and even brand image.

Multichannel sourcing. As we mentioned earlier, social networks communication is fundamental. Community Manager can become a real recruitment interface and hep to create HR communities that may attract talents, including passive candidates.

Video will become a powerful tool for attracting candidates, promoting employer brand and even for candidates to make better first impression (tools like video interview or video CV).
Focus on passive candidates.

The recruiters need to be more proactive in their actions and candidate-targeting. They need to pay more attentions to profiles of passive candidates, approaching them directly and only with real proposals. No more "would you like to…?" tell candidates you have a great opportunity matching their profile, make them an offer that would be interesting and make previously passive candidate wanting to have an interview with you.
Bring sales in recruiting strategy and ahead build relationships + get use to track candidate's data, to better understand them.
Select differently.
Rethink / focus more on soft skills especially focus on Attitude, Personality and Ability. We've already talked about how important soft skills are now. Recruiters might need to focus on those (especially attitude, personality and ability) and not only see the CV of a candidate with a list of companies he/she has been working for.
Be flexible and think outside the box. More and more we see candidates sending their CV via WhatsApp message or just recording a video telling about their experience. We cannot go with an old way of communicating with candidates, we need to meet them halfway: unordinary CV, Skype interviews, phone interviews, etc.